In an episode of Always Sunny in Philadelphia two seasons ago the gang discovered that their reading impaired friend Charlie had been dutifully turning on the neon "closed" sign on the front of their bar each morning for years mistaking it for "Coors".  They quickly realized this was probably a contributing factor in Paddy's Pub's woeful finances.  While this made for some extremely comical television, the truth is, there are a shocking number of websites that are committing the same sort of sins that we like to call "web design suicide".  This may be a recurring series given the amount of ammunition being provided to us...So let's start with today's offender!
Grand Marketing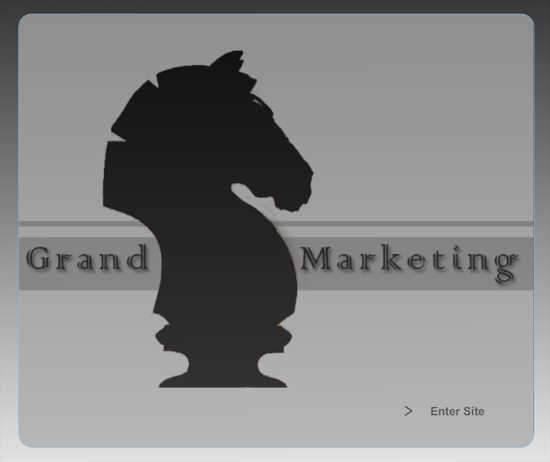 Sins:
The home page must be entered (if you can find the link)...plus it's guarded by a knight.  If you click on anything other than the Enter Site link, the knight actually charges you (seriously, try this - I like to use lines from Monty Python's Holy Grail while doing this, "Run away, run away!").  Perhaps they should put a moat around your laptop as well to make it more difficult to access.
There's some sort of toggle button that says 2/3 on the Our People page that takes you to the home page if you click left while clicking right takes you to a page of pure darkness.  I stared at the black page for a full hour waiting for something else to fly out at me and it never happened.  This was tremendously disappointing.  I'm also a little confused that "Our People" is only one person.  Perhaps we were already counting the knight?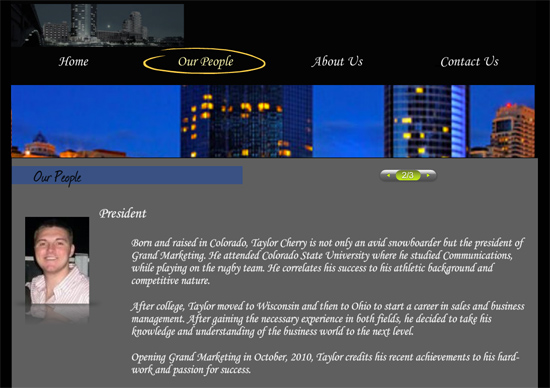 The About Us page actually has a clickable photo album of people - so maybe there are (plural) people here.  They all seem happy.  I just don't know who they are.
Then, there's the home page.  This is the coup de grace.  This is a four page website.  I have nothing against four page websites.  If that's all you need to explain your product or service, then I'm all for it.  However, if your total word count is going to be under 500 you should probably spell everything correctly...particularly in the first paragraph.  So if you survive the scare that is the entry page you will quickly learn that Grand Marketing's goal is "to answer the calls from Fortune 500 companies seeking a more effective and personal makreting technique."  Ugh *slapping forehead*.  If I'm a Fortune 500 Company, I'm doubting the legitimacy of this company already.  If I were a bit more forgiving I might think about checking out their other web properties...So I click on the Twitter link and find that the page does not exist (if I'm Mr. Fortune 500 I'm already on another website), then I see that the RSS icon isn't even a clickable link but alas Facebook is alive and appears to be active.  Success!
Okay, this isn't really meant to be mean or cruel it's just trying to make light of what is a potentially damaging situation.  The truth is, putting up an incomplete or subpar web designcan negatively impact your business.  Grand Marketing, for example, appears to actively update their Facebook page and Wordpress blog.  That's good, but this website is still out there dissuading potential customers from even giving them a chance.  Here's some freebie advice if you're from Grand Marketing and you care to listen:
Ditch the entry page.
If a link doesn't exist or is dead, get rid of it.
Clean up the URLs (http://www.grandmarketing.biz/#!age-0/culture should just be .biz/our-people).
Make unique page titles for each page and add a unique meta description for each page while you're there (Google will prefer this).
Give the text a once over for spelling and grammar.  On the our people page - talk more about your other people, too.  If I'm a large company I'd like to learn a bit more about the people I might be working with since that's probably a big selling point in your business.
Link out to your Wordpress blog (which I had to do some digging to find), you have good information there.  In fact, if you don't want this website to exist or don't plan on updating it, kill everything but the home page and just link that page out to Facebook and Wordpress so if they find this page you can point them to where you are better presenting yourself.